Christmas is just a mere 8 weeks away (hard to believe huh!) and soon it will be time to 'deck the halls' with colorful lights, shiny decorations, and or course, a nicely decorated Christmas tree to place all of those festively wrapped gifts beneath!


But most importantly, it's a wonderful celebration of the birth of our savior Jesus Christ, the real reason for the season.
Christmas is my favorite holiday of all and I love all of the wonderful traditions and celebrations that go along with it; including giving and receiving gifts. But for many, holiday gift-giving can end up being very costly, especially if you have children or a large family.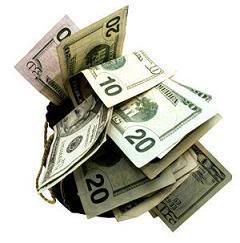 The cost of buying gifts for assorted family members and friends can be overwhelming and often puts quite a noticeable ding in the pocketbook. I can vouch for this personally. As a grandparent of two (soon to be 3 children any day now!) I can and have easily spent a small fortune on gifts for my family and grandchildren over the years!
Thankfully this year I decided to get a head start on all of my holiday shopping and now have most of my Christmas shopping completed. YAY! With my shopping mostly completed, I've decided to give my readers a chance to win a bit of cash to help with their holiday shopping this year! So how does $75 via PayPal sound?
It's always nice to have a little extra cash to spend on gifts and other things isn't it ;)
Now who wants a chance to win a bit of holiday cash?
(To enter, just follow the directions on the Giveaway Tools form below).
Throughout the duration of this giveaway there will be daily entries offered so be sure to stop by each day to increase your chances of winning.
Please note
: You
MUST
have a
PayPal
account to enter this giveaway. If you don't have one set up yet you will need to create one in order to win.
GOOD LUCK!!